let us pray… then let us get angry!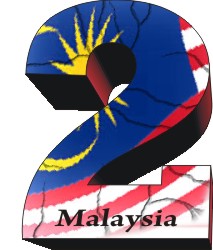 *sigh* it's one of these 'after friday prayers' protest again, which i had talked about so much…. and this time it is during ramadhan month too. after they PRAY, PRAY, they come out ANGRY and SHOUTING…. so what were they doing praying inside the mosque then? this time it involved a senator too! and i wonder why the senator pray every firday in a mosque when he doesn't understand what is the meaning of jihad.
yep it's that PKR traitor, ezam, this time – who threaten jihad against those who proselytisie to muslim and threaten to burn down news protal, malaysiakini and malaysian insider. read about it from the malaysian insider link i gave, also from malaysiakini (scroll down below).
1. illegal protest. why were the illegal protest allowed? yes i know, it is inside the mosque compound… but there had been many times the opposition hold protests or ceramah or just dinner inside a private building, there were special branch spying around and police had known to stop them.
2. why wasn't ezam hauled up for his threats to burn down two buildings?
3. why wasn't ezam and all other involved in the protest hauled up for being seditious by threatening to go to WAR with the other religions?
DOUBLE STANDARD! DOUBLE STANDARD! 2MALAYSIA! 2MALAYSIA!!
note: read the letter by dr jacob george, 'thuggery unbecoming of a senator, ezam'
——————————————–
Malaysiakini
Senator Ezam threatens to 'burn down' news portals
Nigel Aw
Aug 12, 11
3:52pm
Umno Senator Mohd Ezam Mohd Nor said today he will wage war in defence of Islam, including burning two online news portals, which he claimed to be agents against Islam.
"We are saying here that we will launch an all-out war to defend our faith if they (anti-Islam elements) do not stop (and) use their agents – Malaysiakini and Malaysian Insider – which were biadap (rude) towards the Selangor Islamic Affairs Department (Jais).
"Malaysiakini, Malaysian Insider, we are giving you a very last warning. Our warning is a serious one. If you do not stop this rubbish, we are going to burn you down!" Ezam (left) declared.
The former ally of PKR supremo Anwar Ibrahim – now the opposition leader's bitter foe – blamed the news portals for "Jais' woes" for their coverage of the Selangor religious enforcement body's raid at the Damansara Utama Methodist Church (DUMC) compound last week.
Ezam issued his threats at a highly-charged rally of some 200 people inside the compound of the Selangor state mosque in Shah Alam.
Also present were Kulim Bandar Baru MP Zulkifli Nordin and Umno Youth exco member Lokman Noor Adam (right), who was clad in a red Patriot T-shirt.
Zulkifli, also a former ally of Anwar, echoed Ezam's warning, calling on Muslims working in the news portals to "repent".
"I see representatives from Malaysiakini and Malaysian Insider here, I would like to tell them, particularly Muslims, to repent.
"You are being barua (running dogs) of propagandist and enemy of Islam. Don't be running dogs of kafirs (infidels) that go against us," he said.
The group, armed with banners, chanted "Long Live Islam" and "Takbir" as they protested against apostasy among Muslims.
One banner read "Faith Sale, Religion Sale" with a picture of Shah Alam MP Khalid Samad's head protruding out of a toilet bowl. Another banner read "Ban English language Bibles".
Disrespectful non-Muslims
Several of the protesters donned masks of state exco leaders while displaying placards, one of which read "(Selangor Menteri Besar) Khalid Ibrahim is head priest".
Earlier, Ezam launched a broadside against those he deemed disrespectful of Islam, in which he placed prominent figures in the Selangor state government in the same group.
"We have no problem with non-Muslims. But we have big problems with non-Muslims who are disrespectful to us and our religion, we have big problems with non-Muslims who proselytise to Muslims.
"We have big problems with them more so if they are government excos – Ronnie Liu, Teresa Kok, Xavier (Jeyakumar), Elizabeth Wong, we have big problems with you. You better stop before we go all out," Ezam said.
Later, Zulkifli reaffirmed his support for the Jais raid on DUMC, claiming that there was evidence that showed the dinner event, at which 12 Muslims were present, was intended to proselytise.
"We urge the authorities to take action against DUMC. According to our information, the church is illegal and has not been approved," he said.
Zulkifli added that he and like-minded protesters would be lodging police reports against DUMC throughout the state from tomorrow onwards, on top of seeking an audience with the sultan to urge action be taken against proselytising.