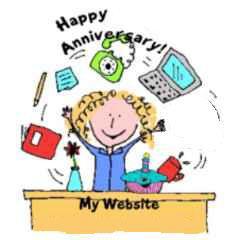 wow! can you believe it? i almost forgot about my blog anniversary. too many things had been happening… too many things to blog about. luckily today happen to be a sunday, where usually on a sunday, i try to steer away from socio political posts. thinking of what to post on a sunday… some joke or some motivational story, the date 28 sept suddenly struck me… it's the date where i started blogging 5 years ago! 5 years, mind you. i'm a, what they call 'veteran blogger'. heh.
5 years should be consider a milestone already eh. you know, 5 years, 10 years, 15 years and so on. so i was hoping to have a nice 5 years anniversary header to use and/or a nice 5 years banner to use on my post – had written to my old friend wits0 a month ago to ask him to design for me some headers and banners but unfortunately he did not. he must be pretty busy eh… oh but i see him commenting a lot at susan loone's blog. for all the previous anniversary, the headers/banners were done by him for me. sad lah. this time 5 years and i have nothing to show. 🙁
well i have to resort to googling for some pictures (but not customised to fit my blog of course unlike the ones if done by wits0) and manage to find the picture you see here, which was taken from here. it's a cute picture that i like which perhaps shows in a way how i felt. (juggle! juggle! yay! yay! happy anniversary to me!).
another thing is i had wanted to have a new look for my 5th anniversary – that is to change template but i found that i don't know how to do it. it takes a lot of work (technical savvy ones!) and time. i know it's easy to just go to wordpress themes and click choose a theme and yes, my blog will change to that theme… BUT many of my stuffs already here won't go into the new theme. this is where i need technical knowledge how to do it, which i don't have. i had asked my new host to do it for me… which i don't mind paying… in the beginning he said yes but last week when i contacted him, there was no reply at all. so poor me still stuck with this old design. anyone care to help out? i hope to still get in touch with him for the new design.
ok, mandatory for anniversary post – links of my other anniversary posts!! if you are a new visitor, do click on the links to read ok.
fourth anniversary
third anniversary
second anniversary
first anniversary part 2
first anniversary part 1
i'm resisting to blog about teresa kok and petrol bomb, as stated in malaysiakini. anyway read about it in her own blog.... complete with the vulgar words. hey, don't be to excited to want to hop over to see the vulgar words (if you haven't yet) before wishing me happy anniversary ya? 🙂