Logos Hope brings more than books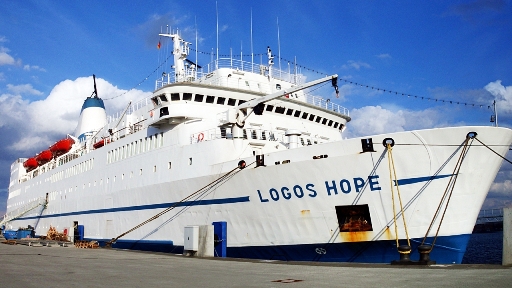 Logos Hope is a ship features a whole deck designed for visitors to experience.
From the moment people step on board, they will receive a warm welcome and have an opportunity to watch a short introduction to the new ship in the Lifeboat Theatre and learn about life on board this unique vessel.
After this Welcome Experience visitors will move into the all new book fair where they can explore over 5,000 different books and CD titles available at affordable prices.
The books cover a wide range of subjects such as science, technology, sports, hobbies, cookery, the arts and philosophy. A large selection of higher education textbooks is available as well as many books for children.
From the book fair visitors will have opportunity to walk through a display that reflects on the meaning and purpose of life before they arrive at the International Café. Here they can enjoy a snack or a beverage in a comfortable, relaxed environment and meet one of the international crew members or enjoy some live entertainment.
Logos Hope will be open to the public at Swettenham Pier, Penang from 12:00pm on Friday, 19th August through to Sunday, 25th September 2011.
Tuesday-Saturday 10 am–10pm
Sunday 1pm-10pm
Monday: Closed
The all-volunteer crew and staff comprise of over 400 volunteers representing 45 different nations who offer a unique example of unity in cultural diversity. Logos Hope is operated by GBA Ships e.V., an international, charitable organization registered inGermany. In just over 40 years of service, the organisation has welcomed over 40 million visitors up the gangways in over 160 countries and territories around the world.