hey police, come do your job!
ok so police did their job and investigated this facebook posting…
…and had realesed the youth they detained after he claimed what he posted was a hoax.
now will the police please investigate these two umnoputera:
akhramsyah  muammar ubaidah bin sanusi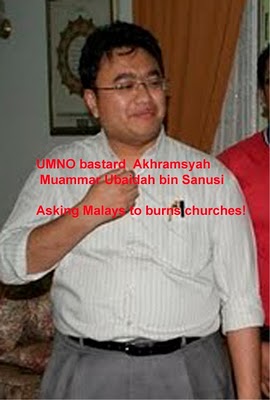 and tun faisal ismail aziz ??
names are given, photos are shown, what are you waiting for, oh police?
the first man, the fat guy, akhramsyah, was calling on people to burn churches! read what one blogger had to say of him here (labelling him umno bastard) and what that fat umno bastard wrote in the malaysian insider. someone from facebook said he works in shell and has asked as many people to write to shell management complaining about him.
the second man, tengku faisal is an umno youth exco and also media & c ommunications bureau officer, as well as an officer of the HM, kerismuddin!!  he is also admin for the facebook group '"menentang penggunaan nama 'allah' oleh bukan islam".' in his blog, he accused the archbishop murphy pakiam as being responsible for all the church attacks and the protests.  he is deliberately and obviously fanning religious tension!