filed in personal | on Oct.30, 2006
damn streamyx!
damn, damn, damn!!
it died on me everyday since about 10 days ago… for a few minutes, sometimes for an hour… and today's the worst… more than 2 hours!usually when i first switch on the modem, it was fine, the line was connected and i can surf and check emails…. but suddenly after 15 mins or so, sometimes after 1/2 hr, suddenly the line was diconnected and this page greeted me in the face.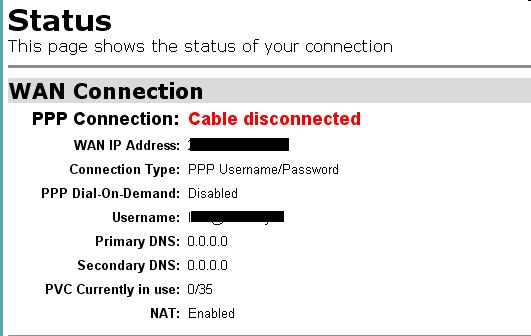 yes, everyday while surfing halfway, the line will tend to get disconnected. if it stays disconnected for only 5 to 15 mins, that's fine, but most of the time it was more than that! grrr!! :X after seeing that 'disconnected' page, when i go to check status and diagnosis, this appeared:
you see under the last port (VPI/VCI: 0/35) there is a red cross mark which shows PPP not connected. that part
should have a green pass mark to show PPP connected. then under 'diagnostics', you see here it says dsl link down.
sometimes the dsl link is ok (green pass mark) but there is still the DNS error.
i'm so fed up and so mad lah!!
everyday it happens and as i said today is the worst. when i switch on the modem and open firefox, my homepage does appears, which means, the line was connected, but when i click on a link to visit, plop! suddenly that the modem homepage appeared telling me 'cable disconnected'. and i waited… and waited… 1/2 hr…. 1 hr…. still no connection… 2 hrs… still nothing. grrr! "x looks like it is going to be down forever??
arghhh! and i have not gone to my usual blogs surfing yet… and i have so much to blog… how??? i cannot do anything except wait and wait… hopefully the line will come back before 2.00am, my sleeping time. i'm typing this on notepad first, to be copied and pasted to my blog later.
anyone of you have been experiencing intermittent connections from the eccentric streamyx lately? in the MPC forum i understand quite a number did but i wonder did they or anyone experienced like what i experience. connect – disconnect – connect – disconnect – connect – disconnect… all within an hour or 2 hours…. not that within those 1 or 2 hours it was disconnected all together. it came on and off within that hour… except today it was off all together for more than 2 hours!!
i'm so fed up lah!! so much to blog but no line for 2 hours and now when it comes, it's too late for me to blog other issues as i'm now blogging this to let off steam!! arggh!!