detained by police for wearing t-shirt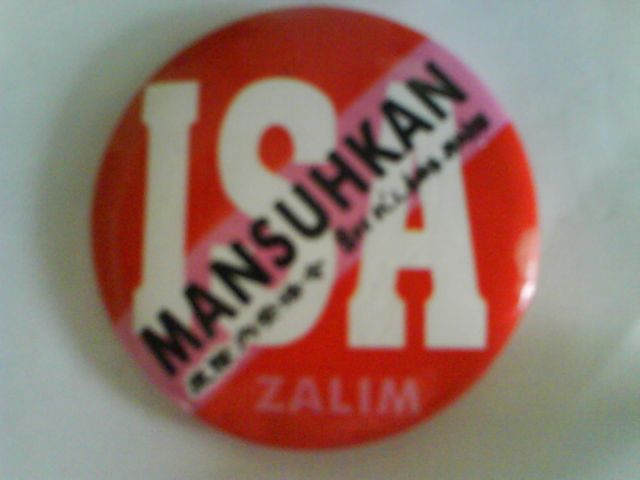 what's this i read? damn silly!!
read from malaysiakini and see how silly the police were! (full article below).
this man, KS oliver, attended a deepavali open house and was wearing one of those anti-isa t-shirts (created by RPK's supporters – i have one too but different design). just because he was in that t-shirt, the police detained him because the consider him a 'threat to the VVIPs present'. huh? like this also can ah? oh of course can because this is bolehland!!
hey i have 3 different anti-isa t-shirts and i wear them now and then (one from RPK's support group, one from GMI penang and one from suaram penang). so is there a possibility of me being detained, if i wear it, especially if i go for a government function?
speaking of which, KS oliver attended a deepavali open house with his anti-ISA t-shirt. this reminds me last saturday, i attended gerakan's deepavali house (where VIPs like koh tsu koon, teng hock nan, and some other VIP indian names i forgot) were present. no i was not wearing the anti-ISA t-shirt but i was wearing the anti-ISA badge – the big red one (first picture). thank god there's no police present or thank god i did not go over to shake hands with the VIP. who knows they might consider me a threat with my anti-ISA badge displayed so prominently on my shirt.


nowadays i go round everywhere with the anti-ISA badge, interchanging with the small black one (2nd picture'). there were a few people who i met commented, "wah! anti-isa badge! you not afraid police catch you ah?". i shot back "don't be silly lah! there is no rule prohibiting us from wearing a badge!". really i wonder why there can get to be so silly… or rather, more correctly, the word is FEARFUL. why are they so fearful that it is not right to show your support of anti-ISA in public? thank god, we don't have a lot of those people… that was why we still see lots of people attending the weekly anti-ISA vigils in october at dewan sri. well, we will be having another one soon – on 15 nov. don't forget to book the date and make sure you come along.
———————————————————————————
Malaysiakini
Deepavali bash: Man held over anti ISA t-shirt
Andrew Ong | Nov 4, 08 5:14pm
His curiosity piqued, KS Oliver and two friends attended a national-level open house in Kuala Lumpur on Sunday.
However, Oliver's festive mood came to a rude halt when he ended up being detained by the police for three hours over his 'dangerous' T-shirt.
According to the 27-year-old Malaysiakini subscription executive, the police considered him a possible threat to the VVIPs present, which included Deputy Prime Minister Najib Abdul Razak.
Relating his ordeal, Oliver said he and his friends had visited the event after seeing a banner in KL Sentral regarding the bash, which was taking place at a nearby car park.
The three were passing through exhibition booths when the police confronted them and escorted Oliver – who was clad in a T-shirt which bore the words 'No to ISA' – to a beat base in the vicinity.
"I asked why I was detained and they asked why I wore this T-shirt. I asked what was wrong with the T-shirt and they said I could be a threat to the VVIPs present."
"They gave me two options: Remove the T-shirt or remain at the police booth until the VVIPs leave. I refused to remove my shirt and chose to stay," he said.
Repeatedly quizzed
During his detention, Oliver said he was repeatedly questioned by several police personnel about his background and purpose of attending the event.
"I had to repeat myself like a tape recorder. At one point, one police officer asked if I was paid to wear the T-shirt," he said, adding that he wished the authorities would respect the freedom of expression.
However, Oliver said the police were professional and cordial throughout his detention.
Contacted later, Brickfields district police chief ACP Wan Abdul Bari Wan Ibrahim said Oliver was detained for documentation purposes and for the police to determine his reasons for being at the event.
"We needed to establish if he had any bad intentions," he said.
On the duration of the detention, Wan Abdul Bari said the law allows detention up to 24 hours before needing to get an order from a magistrate.
The national-level Deepavali open house is an annual event organised by the Culture, Arts and Heritage Ministry.